CRYPTO STAMPS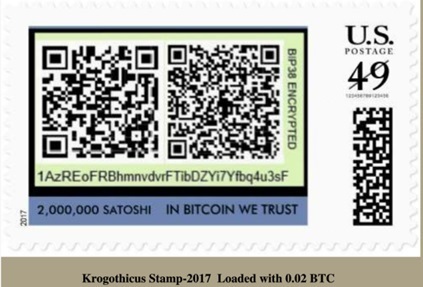 Welcome to the new and exciting world of Crypto Stamp collecting. Before I list what has been issued I would like to explain the definitions of the term Crypto and Stamps.
       When we refer to Crypto, in this case it being a Crypto Currency, Wiki defines it as such.
          A cryptocurrency (or crypto currency) is a digital asset designed to work as a medium of exchange that uses strong cryptography to secure financial transactions, control the creation of additional units, and verify the transfer of assets.
       When we refer to a postage Stamp, it is defined as such,
            A postage stamp is a small piece of paper issued by a post office, postal administration, or other authorized vendors to customers who pay postage (the cost involved in moving, insuring, or registering mail), who then affix the stamp to the face or address-side of any item of mail—an envelope or other postal cover (e.g., packet, box, mailing cylinder)—that they wish to send. The item is then processed by the postal system, where a postmark or cancellation mark—in modern usage indicating date and point of origin of mailing—is applied to the stamp and its left and right sides to prevent its reuse. The item is then delivered to its addressee.
              Postage stamp collecting has been around for over a hundred years and people have long waited for the issuance of new stamps to add their collections. But in the past year or two an exciting development happened where the collecting of stamps AND the addition of a cryptocurrency have been combined. I will go over the issued stamps after I explain Physical Crypto Currency.
        Physical Crypto currency collecting started back in 2011 when the first physical incarnation of Bitcoin came to be in the form of a Bitbills. This is when a public key and private key hidden behind a hologram were placed on card and then loaded with Bitcoin. Other came afterwards, particularly Casascius who introduced Physical Bitcoin in the form of physical coins. Many came afterwards and this spawned a collecting niche that is quite unique and exciting!
    I will list in chronological order the history of Crypto Philatelic items…
2017    PRIVATE ISSUE CRYPTO ENVELOPE
2017    PRIVATE ISSUE CRYPTO STAMPS
2017    PRIVATE ISSUE DIGITAL STAMP
2021 CYPHER POSTAGE CYPHER STAMPS
Crypto Stamps Forum Discussion